July 16, 2019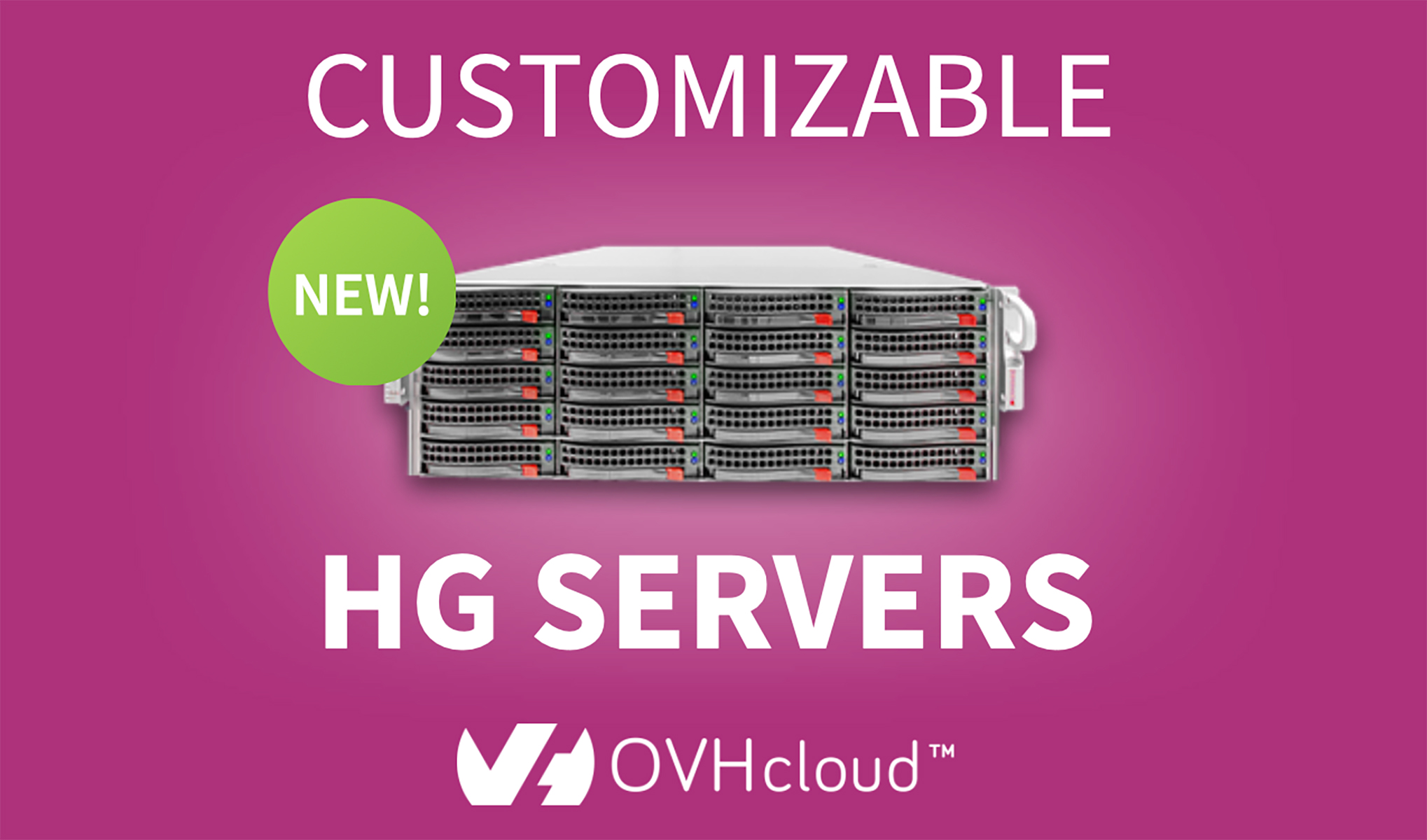 OVHcloud™ is excited to announce our newest range of customizable servers are available on OVHcloud. The HG servers allow the consumer to build optimal configurations to handle complex workloads such as; artificial intelligence (AI), Apache® Hadoop, Data Analytics, databases, high performance computing, virtualization, and many others. Our HG configurations are put through vigorous testing to provide you with the best performance, security and cost.
When accessing the new HG order process, the first decision is to choose your preferred base model:
Each base model features redundant power and rack level network redundancy which offers reliability for all your critical applications. Included in each base model is 1Gbps unmetered outgoing bandwidth and 3 Gbps guaranteed private bandwidth (vRack). For more information on OVHcloud's vRack click here. As always, OVHcloud gives you the freedom to access and configure your server with root access, IPMI (Intelligent Platform Management Interface) and a large library of operating systems that can be installed using our templates.  The HG1 and HG2 Base models are based on a 1U server frame with a disk customization capacity of up to 10 disks, while the HG3 is based on a 2U server frame, with a disk customization capacity of up to 18 disks.
What can you Customize?
Thanks to OVHcloud's expertise in hardware and choices in data center components, we offer and deliver flexible SKU configurations. These configurations are embedded in the order funnel and allow you to choose between multiple CPUs, Memory, GPUs, and storage devices to create the server that best fits your IT needs.
Your CPU
After choosing your base model, the next step includes choosing your desired Intel® processor. We offer four different Intel® Xeon Scalable processors and the option of dual CPUs on certain base models.

Your choice of CPU determines the RAM and disk options., if you are building a higher end machine (i.e., for video editing, graphic design, complex CPU-dependent task, etc.), you will want to prioritize the number of cores. There are a plethora of sites that help determine the specs of a processor, but we recommend visiting the manufacturer's site for the most current information.
RAM
The RAM offering starts at 48GB all the way to 1.5 TB depending on your base configuration. OVHcloud® utilizes DDR4 ECC RAM to protect against data corruption on high-value data. DDR4 ECC RAM has an additional memory chip that acts as an error detector and corrector for the other RAM chips, this is an important feature if data loss and transcription errors are unacceptable to your industry. Financial, medical, and other companies that utilize Big Data use this type of RAM to minimize the risk of losing valuable data. To be noted that Xeon Scalable processors use a triple channel memory lane and we maximized the RAM configuration to maximize the Memory bandwidth Also, Xeon Scalable Gold (Like 6132) processors are compatible with 2666MHz DDR4 RAM. Please refer to Intel's Product Brief for more detailed information.
RAID CARD
Software RAID is included in the base configuration. Software RAID uses the power of the OS and allows users to reconfigure the arrays without the restrictions a RAID controller may impose. You can add on a RAID controller card to allow the flexibility to set up your desired hardware RAID configurations (0,1,5,6,10, 50, and 60). A RAID controller card manages the RAID configuration independent of the OS. Since it is not sharing processing power with the OS, Hardware RAID is generally faster when reading/writing data.
Available DISK Options
After selecting your RAID card, you can choose the disks you wish to add in the predefined slots. Disk selection is based on the number of connections needed as well as the slot size. There are a wide range of options ranging from SSD, SATA, and NVMe (non-volatile memory express) to fit multiple consumer needs and price points without sacrificing performance or reliability. Generally, SATA drives are preferred in workloads where cost is a driving factor and the transfer speed is not a primary concern – storing unused files, backups, recovery solutions, and other use cases. NVMe drives are perfect for data-intensive environments that require fast transfer speed and minimal latency. The limiting factors with NVMe drives are cost and the amount of NVMe drives that can fit in the bays.
NVIDIA® GPU Controller
A featured component of the HG customizable servers is the NVIDIA® Tesla P100 GPU(Graphics Processing Unit). It is utilized most often in deep learning workloads, HPC, video rendering, AI, and hyperscale applications. Utilizing the NVIDIA Pascal® architecture increases throughput while keeping cost low by reducing the number of nodes needed. You can read NVIDIA®'s white paper here.
Intel® Optane™
One of the most exciting upgrades our HG servers allows is the addition of Intel® Optane™. This high-end memory increases the server's output by bringing access to the data closer to the CPU. As a result, it does more work with less, allowing you to save and reinvest that CapEx elsewhere. If you are interested in more information on Optane™, Intel® has a great article here about why you should include this memory in your infrastructure.
Why OVHcloud?
OVHcloud offers value-driven cloud computing solutions that are trusted by over one million worldwide customers. We build our solutions with the consumer in mind to allow innovation, scalability, and freedom. We clearly display our pricing and have no hidden costs. If you are interested in our customized HG servers please visit us at us.ovhcloud.com or contact us.