August 2, 2018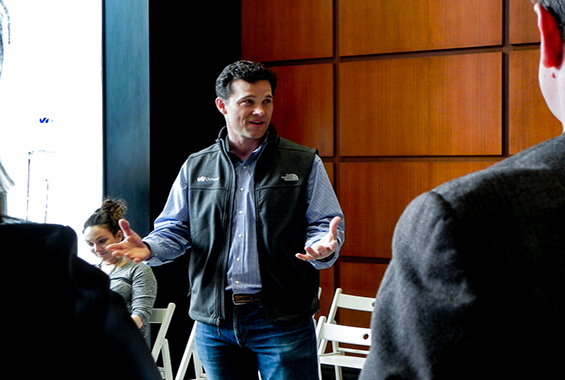 We're excited to announce that the CEO World Awards®, an annual awards program honoring CEOs and organizations of all types and sizes around the globe, recently recognized OVHcloud's leadership team with two awards:
Our CEO and President, Russell P. Reeder, took home the gold in the CEO Achievement of the Year category
OVHcloud management team has been named a silver winner in the Management Team of the Year category
Russ has a strong entrepreneurial history of building and leading disruptive, high-growth businesses. He has more than 25 years of technology and brand-building experience under his belt and has held a host of leadership positions at start-up ventures as well as Fortune 500 companies, including Oracle and Mobile Oil.
In 2017, Russ drove the successful acquisition of vCloud® Air™ from VMware® to jumpstart our presence in the U.S. market as a leading cloud provider. This milestone launched us into year three of our five-year roadmap, only three months after we were established.
"I am continually impressed by the mindset and resourcefulness of our leadership team.  I am honored to be named a gold winner by the CEO World Awards," says Reeder. "Businesses today need committed, highly agile and collaborative teams.   As a leading global cloud provider in a highly competitive industry, our employees, our customer-first approach, and our drive to execute, makes our success possible."
Russ handpicked our team of seasoned executives for the launch of OVHcloud, many of whom have a successful track record of launching and growing cutting edge technology companies. With Russ at the helm, our award-winning management team consists of:
Dean Gels, Chief Financial Officer
David Wigglesworth, Chief Revenue Officer
Brian Kuhn, Chief Digital Officer
Robert Gregory, Chief Customer Officer
Alexandra Skaggs, Chief of Staff
Scott Brown, Senior Vice President of Engineering and Operations
Carolyn Kress, Senior Vice President of Human Resources
Patty Fisher, Senior Vice President of Marketing
Suzanne Law Marisa, General Counsel
The annual CEO World Awards program encompasses the world's best in leadership, innovation, organizational performance, new products and services, CEO excellence studies, corporate social responsibility and milestones from every major industry in the world. OVHcloud was honored in San Francisco on Monday, July 30 during the annual SVUS Red Carpet Awards Ceremony Dinner.
Learn more about our award-winning leadership team or explore the OVHcloud product offerings!